People eat meat and think they will become as strong as an ox, forgetting that the ox eats grass



turmeric
and a small amount of water and blot onto the rash. Anytime it would start burning and itching again, I'd re-apply it, and it really worked. It will stain clothing, it is yellow. I am lucky to not work, so can lay around with no clothes on it, and let it be exposed to air, as clothes rubbing on it make it itch worse and heat it up, not a good thing. I also got lysine tablets from the vitamin section at Walmart and have taken them for 2 days. I may put a little of the powder of the lysine pill into the paste.
I started with these shingles about last Wednesday, today is Tuesday a week later, and it seems the redness is not so firey today, and I noticed last night the burning and itching was better. Let me tell you something I found on the internet that helped my itching and burning. Make a paste from
very important
to drink lots of water while on shingles meds. I read other people complaining about urine smelling bad, and it's a sure sign they are not drinking enough water. I only had 6 stinging bumps when I went, and didn't get more. When it's all gone and you are completely clear, get the shingles shot, make sure you have no skin eruptions of any kind, even if your insurance doesn't pay for it! I tried to get it last year, but my dr refused to give it me until I was 60. Well, it's February and I have shingles... and will be 60 in March :(
Anyway, being a vegetarian, I eat brazil nuts, walnuts, cashews, almonds, nut butters and drink almond milk and whole grain foods all day long. If you do a search on:
l-arginine shingles
you'll find that there are foods that stimulate the virus to produce faster and better, and the top food on the list is nuts and nut butters! Also things like wheat, oats, etc.
First, let me say that L-arginine foods are very important to health, and I usually eat a diet high in these. I'd say my usual diet, being a vegetarian is 3 times higher in this than those who are not vegetarians. So, I don't want anyone thinking that it is a bad thing, it is good for you. BUT, when you have shingles or herpes, it's important to not over load on these foods, like I usually over-eat nuts. You will not get rid of all l-arginine, because it's in everything, and the foods that it is in are also important in fighting things off. For instance, broccolli has a high amount. I would not try to wipe it out of my diet, but not eat it everyday, and not eat the huge plateful of it I usually do, during this period. I will study the lists of foods and try to choose fewer of the high l-arginine foods and more of the high lysine foods, with small amounts here and there of the high l-arginine foods that are the most healthy choices. But for the things that are really high on the list of l-arginine, I can totally do without them for a month, till this clears, These foods like nuts, nuts butters, almond milk, chocolate, should be avoided during a break out of shingles, but ok after all clear. If you suffer from herpes, they should be eating more sparingly and avoided during break out. I would guess it would be the same with a child with chicken pox, since they are all herpes types.
The thing is to try to eat foods higher in lysine and lower in l-argintine, just during the break out times, not forever. Don't try to avoid eating any l-argentine, you need it, just don't eat the items that are at the top of the list while you are having a break-out. I have to say that I usually OVEREAT nuts, anyway. Nuts, nut butters and nut milks are going to be off my diet till this clears. Different lists may say eat this/don't eat this. I'm seeing some that say eat something that another says avoid, because the say you still need those other nutrients to ward off the virus. I think common sense should come into play, with avoiding the top l-arginine things while breaking out and eating
small
amounts of some others. Again, high l-arginine containing foods are actuallly highly nutritious, just not good while breaking out, as they assist the virus in duplicating. Only stay off the highest ones during a shingles breakout, then eat them again. If you have herpes, eat them in small amounts, don't pig out on them. Please go to more than one site to try to understand the different approaches, as some list the foods, and the second one here list reasons to not wipe some foods out of your diet, as they may help you fight this. I use the list sites to find the top offenders, but then another site to tell me if I really need a little of the other foods, even if they are high l-arginine, because they have different qualities that fight the infection. The key to those is small amounts.
I guess my biggest changes for my breakout of shingles period is no nuts/nut butters, no almond milk, no oats, switch from oatmeal or shredded wheat -> Rice Krispies for now. No large servings of soy/beans, keep to smaller servings of any protein. Dairy products are high in lysine and I did go out and buy dairy yogurt, gouda cheese and cottage cheese for this time period, and am drinking my husbands organic milk (1/2 C on cereal, yuk). I normally eat veggie cheeses, but for this time period, will eat the dairy as it is very high in lysine. Please study the charts on which foods are highest in l-arginine and choose the ones highest in lysine, with limited choices in the high l-arginine for balance, and in small servings:
http://www.sandiegohomeopathy.com/downloads/Lysine_Arginine_Foods.pdf

http://www.herpes-coldsores.com/diet_and_nutrition_with_herpes.htm
http://www.herpes.com/Nutrition.shtml
http://www.springboard4health.com/notebook/diet_low_arginine.html
I wanted to let you all know what I found out, incase someone else needs this info. I had a very itchy angry looking rash, and was surprised to find out it was shingles. It was the last thing I expected, as I probably wouldn't have went to the doctor as quickly and gotten anti viral meds, if it hadn't been where I sit down. If you get an itchy red rash, even one spot, go to the doctor! Shingles can cover a huge amount of skin if you wait to go, and can affect vision and hearing! Once you get the medicine for it, it stops more from forming, It is
My son found this recipe a couple of months ago and loved it and has been telling me I should try.
My hubby and I both loved it too! Thanks son!

Dad's Stuffed Bell Peppers Recipe
simplyrecipes.com/recipes/dads_stuffed_bell_peppers/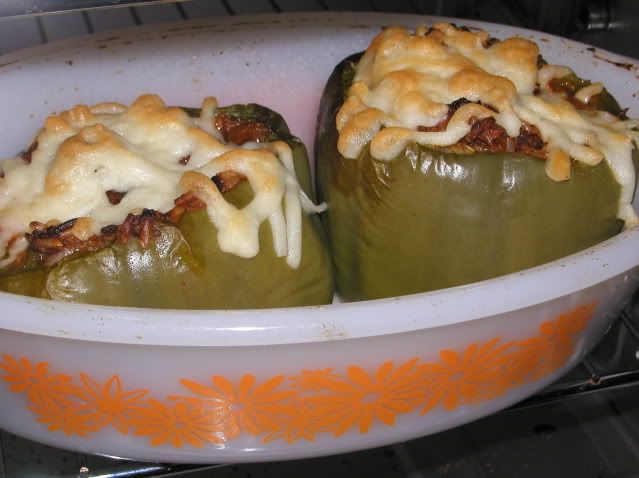 I started in making this and got to the part about adding things to the mix before I realized the rice had not been started. So, I'm giving you a heads up that it doesn't TELL you to start cooking the rice first. Sure, white rice would have been faster, but I don't let that in the door, so I had to stop and wait 40 minutes for the wild rice to be done. I would have used regular brown, also, but it takes time to cook, too. Then I started pitching everything on the ingredient list into the pan, and it wasn't till I got to the end that I realized some were meant to be as a topping. But, you know, I liked the spiciness they added to the dish, so will probably do the same again. Here's the particular brands I used:

Lundberg Country Wild gourmet blend of whole grain brown rice - but any bronw or wild rice mix would be good.

Rotele's Mild Diced Tomatoes and Green Chiles - I made 1/2 the recipe and used 1/2 can

Morning Star Griller's Crumbles - 1/2 bag - meat substitute In the recipe, they don't precook the meat, but after sautee'ing the garlic and onion, I went ahead and thru the Crumbles in and got it mixed up with all the ingredients. I prefer it well cooked to start with. I wonder how it would taste if you used the sausage style crumbles?

3-5 shakes of tobasco sauce, I love Aldi's, but was out and used Frank's Red Hot Original - not sure if these are considered tobasco sauces or not, says cayenne pepper sauce.

Did not use Worcestershire Sauce and never missed it.
Galaxy Veggie Shreds - mozerella type (vegetarian cheese)
SHITAKE MUSHROOM SALAD:

*TO READ MORE ABOUT MUSHROOMS AND YOUR IMMUNE SYSTEM, GO HERE:
www.gmushrooms.com/Nutrition/index.html


I made the most wonderful salad, that was so deliscious I wanted to share it!


You'll need:
fresh shitake mushrooms
sesame seeds (high in calcium)
onions - your fav kind
reallly green salad mix with other colors, you can see purple leaves in mine, also
extra virgin olive oil & tajini if you have it
salt - I use sea salt & Bacon Salt (contains no bacon!)
Wishbone Raspberry Walnut Vinagrette
choice of: jumbo red flame raisins, craizins, red or black grapes

Shitake mushrooms are full of good nutrition and when sauteed, taste like BACON! Sesame seeds and tajini also taste like bacon when sauteed. But don't expect to eat the tajini from the jar, it is like how cocoa is really bland until you add sugar. Tajini doesn't taste like anything till you add a little salt. You must stir the oil in well and then keep in the refridgerator. Anyway, it's simple:

Put a couple of T of your EVO(extra virgin olive oil) into a large sautee pan, and the same amount of the tajini, if you have it. Now the FRESH shitake mushrooms. I use a moist paper towel to wipe off the tops and the stems are less fragile so I can actually spray with my veg spray cleaner, rub a little with my fingers and rinse off quickly - pat dry and pitch in the skillet: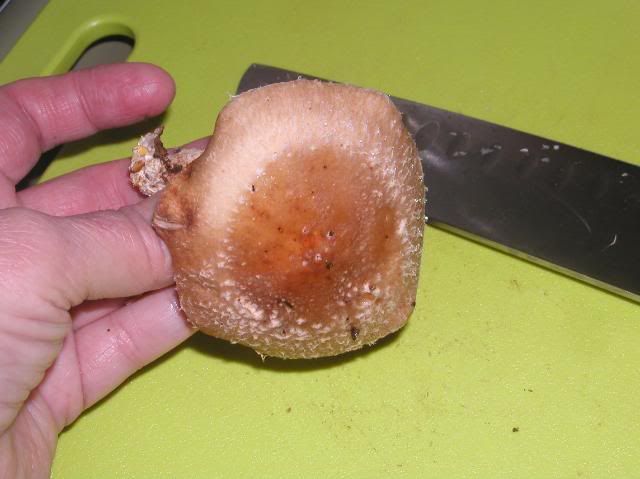 and dice them into strips. I wasn't sure if I'd like the stumps or not, so I left them whole and figured they'd be easy to find and pitch if I didn't like them, but I did: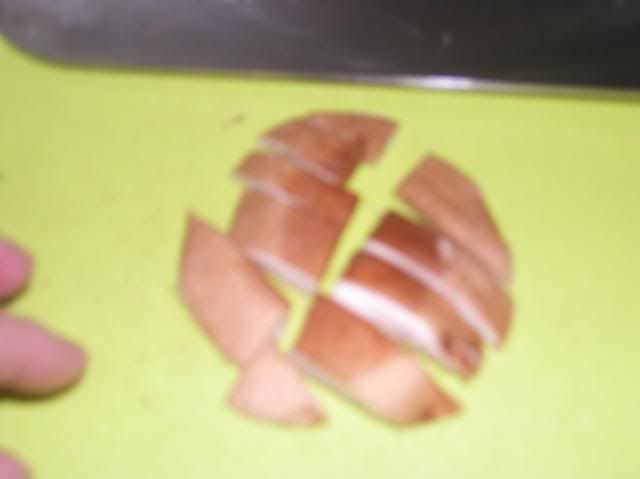 Put all the diced pieces, stumps sesame seeds, a pinch of sea salt into the EVO and tajini and try to sautee till crisp.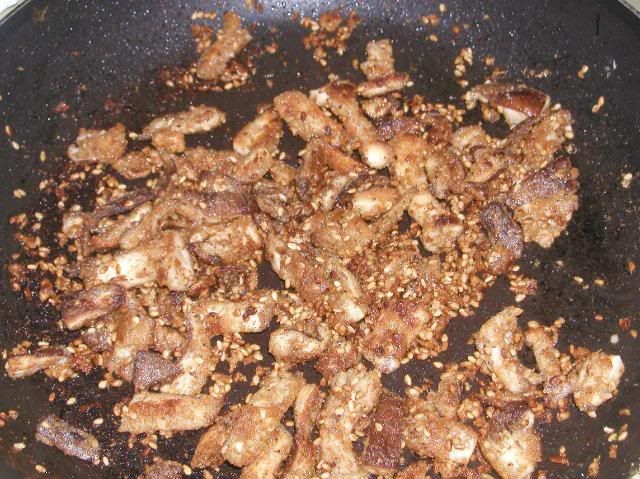 I took the picture before I remember to add my fruit, bah! Anyway, the chopped onions and ruit would be added at this point, but you get the idea, just imagine grapes or the large red grape raisins in it, and you can see the rasp/walnut vinagrette: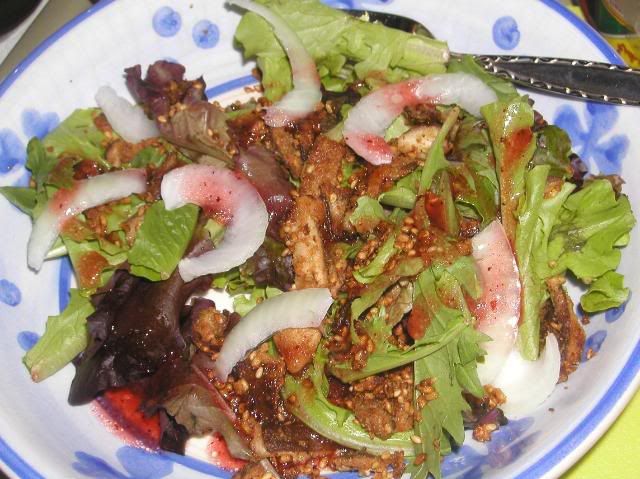 I've made and loved the FlatOut version of Pizza before (previous post), but have a new angle I tried recently, and was great! I saw this Foca Sandwich Bread at Walmart in their Bakery section and bought some. There are 4 pieces in a bag, and I took out 1 and cut it open. My hubby and I each got a half. I didn't toast mine first, and on the finished pic, you can see it's a little mushy in the spot where the tongs moved the food around on the end of it, as I pulled them out, but it was still delish - so you might want to toast lightly first. Also, I get the Ragu Lt, I was going to get the Organic, but noticed by the label that it wasn't vegetarian. :( Walmart is the only place I can find the Ragu Lt around here. I'm always adding Ragu Lt to something, so have a jar in the fridge. When I think it's time to use it up, I go ahead and make the Veggie Meatballs that I find in the section by soy milk and salads at Krogers.
Enough for 2 Foca Pizzas:

You'll need:
Foca Brd, Ragu Lt - 4T
Griller or sausage veg crumbles/yves veg pepperoni, if you want a heavier 'meaty' sauce
Chopped peppers & onions
Fresh Basil
Cherry Tomatoes
2T Mozerelli Soy Shreds

Toast the bread lightly, while sautee-ing the about 2 T crumbles that will be mixed with the 4T Lt Ragu
Spread over the toasted foca bread
Wash and remove stems from fresh basil, chop & tear into nickle sized pieces.
Add chopped peppers, onions & basil
Wash & cut in half longways, the cherry tomatoes. Place on pizza with open sides facing up.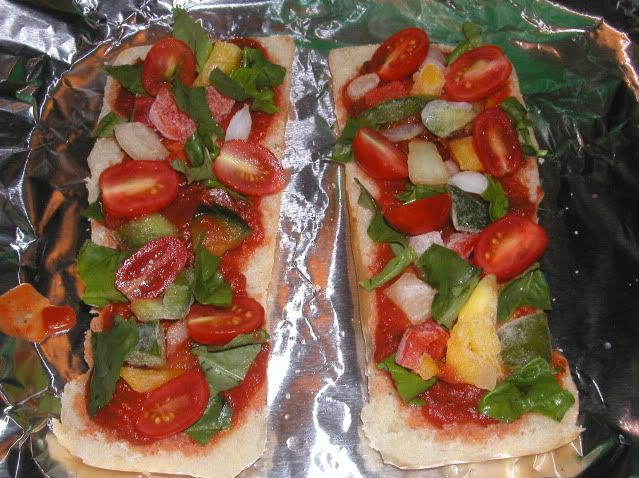 Lightly sprinkle with mozarelli soy shreds: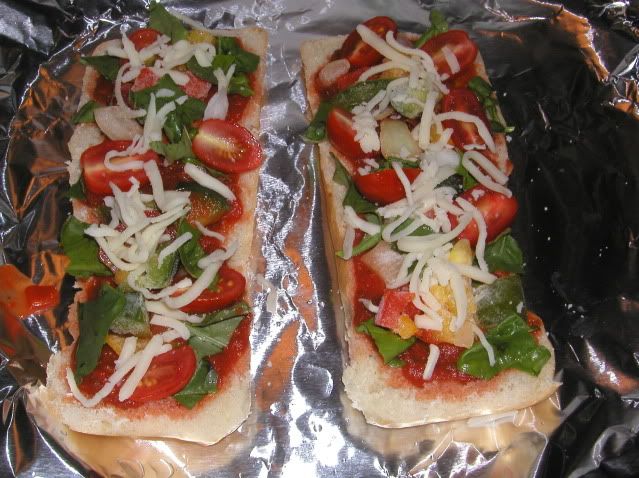 WA LA!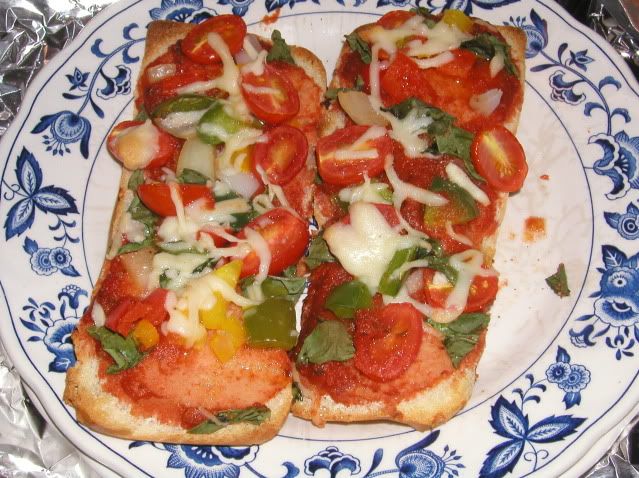 If you can't find foca bread, just use the flat outs, & remember to lightly toast first. There were great with a s salad :)
Half the piece of foca (4 in bag) is 115cal / 1.25fat / .5 fiber I do wish it was whole grain, as most things I eat are.
I decided to use an Imagine soup and add to it to make my own version of soup today. I chopped and added my veggies to it and while it was cooking was looking over the carton more, and noticed that it said "PARVE, GLUTEN FREE, ORGANIC" - so that's a lot of info.... so why not bother to label it veg*n also? Then I became alarmed, thinking of the 'natural ingredients' listed and called them. At first the lady on the phone was just giving me the "prepriotory ingredients" bull, but after I kept complaining relentlessly, she finally bothered to look on her computer and what do you know? Many of their soups are not only vegetarian, but VEGAN! I find these at my Krogers on the organics shelf in a carton.
Here they are:



IMAGINE VEGAN SOUPS/BROTHS:

Crmy Butternut Squash

Creamy brocolli

Creamy Portabella Mushroom

Creamy Potato Leek

Creamy Sweet Corn
Creamy (Light Sodium) Red Bliss Potato & Roasted Garlic Soup

Creamy Tomato

Creamy Tomato Basil

Creamy Sweet Potato

Cuban Black Bean

Creamy Sweet Pea

Creamy Acorn Squash & Mango

Fire Roasted Tomato Bisque

Corn Chipotle

Creamy Harvest Corn

Creamy Garden Tomato

No-Chicken Broth

Vegetable Broth

Vegetable Stock

So, although several different ones would work well for this, I had this one today!: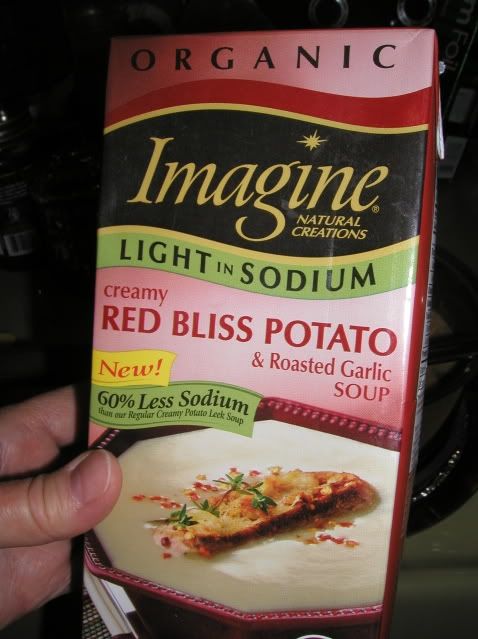 1//2 BOX(shake well) Imagine Lt Sodium Red Bliss Potato & Roasted Garlic Soup
Added:
C button mushrooms that have been washed&dried with paper towel, destemmed & sliced
2 brocolli trees, stems cut off and tops cut apart
1 slc of onion, diced reallly small, since it was not pre-sauteed
3-4 grinds from my pepper grinder
1/4 tsp of mineral sea-salt
sprinkle across surface of onion powder
T nutritional yeast
*
I like button mushrooms because they are enclosed while the stem is on and you can clean them better than mushrooms with open vents under the cap
*
I only used half box to see how it would turn out. If you use the whole box, double everything I added.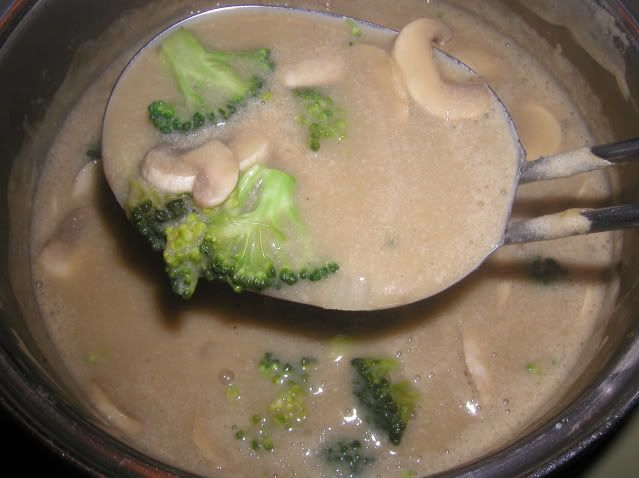 I've wanted a bamboo steamer for a long time, and while at Meijer, in the kitchen gadget section, I saw they had them on CLEARANCE(!) for around $14! You use a nice heavy pot that sits well (not warped and wobbly). The wider the better, as you don't want the steam to only be a small area in the middle. Mine is 8" and, at first, I used a 2qt which allowed for several inches of water. But, when I moved the pot over to clean something I spilled up, the bamboo was too close to the burner that was on high, and scorched the bamboo. Also, I was always running out of water. So I switched to the 3qt pan, which is still 8" across, just much taller. Now I fill it almost full and never run out of water, even on high. It's much better for the bamboo not to be that close to my burner, eventhough it's electric. I imagine flame would be worse! It is hard to describe how wonderful they tasted, completely tender, and yet, somehow, a crispness, and no flavor washed out, and of course, the biggie for me is that I quit using the microwave when I read the report on the (real name) radiation ovens, that turned all foods cooked or defrosted in them into carcinogens. With the bamboo steamers, you want to wash it quickly, no soaking, just use a soapy cloth and rinse in hot water and sit on the rack to air dry (do not stack pieces) When you are ready to cook, spray the bottom of the tray area lightly to keep food from sticking. Rewash and dry after using, but wait till next use to spray again. This is what mine looked like when it was steaming, and I peeked open the lid for this pic: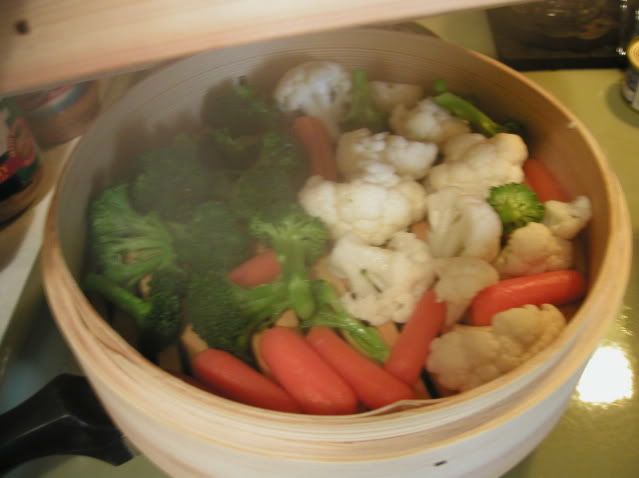 Wanted to mention some of the mags I got lately that looked really good! The Oct issue of Vegetarian Times had a beautiful pic of a Spicy Fall Stew baked in a Pumpkin - you know, those little pumpkins you can get and you take off the top in a zig zag fashion and put clean out if there are seeds and put your stew in there. I got my little pumpkin for only $1.99 at Krogers and can't wait to try it! Last year I went to get one of those at Walmart, and somehow they were charing $5 for it, so I put it back!
I sometimes get the CLEAN EATING magazine(my current issue is Summer 2008, must be another one out I haven't seen yet. It is not a veg mag, but does have a tiny section on veg cooking, and the rest can be made to fit by subbing veg things in. I'm seeing Quinoa & Vegetarble Sautee, to which they have added tofu, or you could go with something like seitan or Morning Star chickn strips. I see Scarborough Fair Potatoes. There's a shitake stir-fry that has fresh ginger, adamame and onions, carrots and their special spices. Vegetable quesadillas - to which I'd add my veggie cheese.
This next one I got is not veg either, BUT, like the one before, deals with lots of fresh real food, that can easily be subbed. The title is actually The Best of fine Cooking FRESH, with FRESH being the word you actually see on the cover.
What sets the stage for me buying a mag, as a vegetarian, is that the cover and foods in it, must show lots of fresh wholesome fruits/vegs made up in creative ways. If there is some meat here and there, I disgard it. For instance, in the FRESH mag(fall 2008), I'm seeing pics and recipes for things like Sauteed Butternut Squash with Lemon, Walnuts & Parsley; Grilled Portabella Sandwiches with Tomatoes, Mozzarella & Basil, Roasted Potato Salad with Shaved Fannel & Salsa Verde - just to name a few of the many in this mag. So far, comparing the Clean Eating and the Fresh mags, Fresh is giving me more, page after page of recipes, it's more like a recipe BOOK, then magazine!
YOWSER! I gotta get up and start clearing me some space, I'm in the cooking mood!
FLATOUT PIZZA




This is a quick,healthy meal. Flatouts are a type of wrap, and are very point friendly, if you do Weight Watchers. For wraps, I use the Sundried Tomato ones, for pizza you can use those or the Italian herb ones.

Set the oven for 350 and spray a piece of aluminum foil with any oil spray, like Pam Olive Oil spray and place your flatout on it, on the wrak in the middle of the oven. This will make the flat out crispy, like a cracker, and not soggy from the sauce.

While the flat out is crisping up, sautee some washed and cut-up mushrooms with some type of no meat crumbles from Morning Star, Boca or Quorn, whatever. Add garlic powder and italian seasoning and simmer till the crumbles are browned.

I buy Ragu Lt at Walmart, never seen it anywhere else, but would just use Ragu reg if I couldn't find it. You will only need about 2 T per pizza. Do not sub some flimsy brand x or your pizza will be blah. After spreading the 2T of Ragu onto the crisp crust, spoon on your crumbles+ mushrooms that you cooked. I keep red,yellow and green peppers & onions chopped and ready in a large freezer bag, so I add this on top. If you don't have that, just chop some onions/peppers, whatever you have. Sprinkle with soy cheese shreds. And cook in already hot oven till all is hot and cheese is melted. Will cool off fast so start eating immediately!